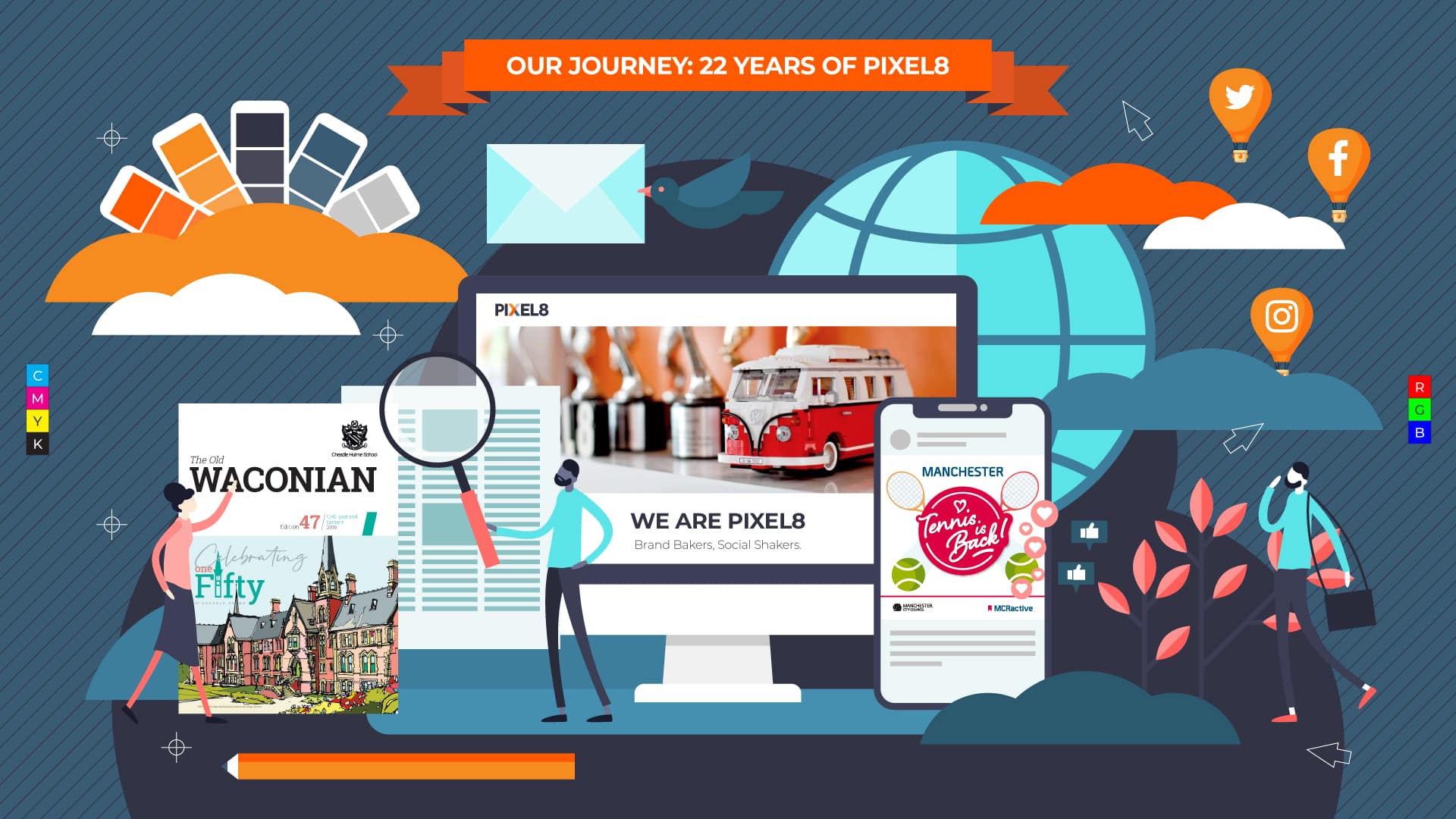 Pixel8's Journey To Becoming A Creative & Digital Marketing Agency
First 10 years
Founded in 1999, this century's roaring 20s will mark 30 years for Pixel8. In this article we take a walk down memory lane through the previous two decades for Pixel8 as well as look ahead to the exciting decade to come for our ever growing agency.
Fresh from his role as lead graphic designer at Manchester United a much younger (he'll forgive us for writing that) Nigel Daws sprung Pixel8 into Manchester's developing digital landscape.
"Boot strapped by very late nights and consistently pulling off the seemingly impossible, punching way above our weight!" The first ten years, Nigel says, were focused on a large number of smaller design projects. These small but exciting projects were commissioned on behalf of the likes of Interflora, Virginware and the loyal Manchester United.
Second 10 years
With a background in marketing, Jamie Watson joined in 2008 and set about transitioning the agency into its second phase of growth. In this second chapter, Jamie set out to acquire larger branding & campaign projects on behalf of large companies such as IHG and Electricity North West.
Two pivotal elements marked the second phase of our agencies journey:
The bigger the project, the higher the agency break-even point goes. This can put agencies in a much more vulnerable position. We watched agencies which we aspired to be, fall off a cliff as their baseline costs outgrew the pipeline of new business and therefore the agencies were no longer sustainable.

Digital has always been at the heart of everything we do. Pixel8 have always utilised digital to better serve the needs of our clients, whether that be through early versions of DAM systems to a web to print solution that we created in-house.
Third 10 years
The third phase of the journey, marking the recent past, has been focused on transitioning to a creative & digital agency proposition. Notably building a skill stack consisting of the ability to create aesthetically pleasing marketing assets (underpinned by our branding & campaign background) coupled with our knowhow to drive communications effectively through digital channels. Together with upskilling our creative & client services functions, a growing digital team has been established to complete the skill stack.
Whereas Pixel8 pivoted in the second phase by taking on larger projects, the third phase has been marked by consolidation of both clients & team. Working closely with a small number of clients, Pixel8 has established & validated a proposition that adds genuine value for clients whilst guaranteeing the agency's longevity – a win win!
Jamie comments: "Underneath the bonnet, our skill stack enables us to service the needs of organisations with clear growth ambitions that value creative and need to elevate their digital journey."
Nigel adds: "It's amazing how our creative is now constantly improving through the knowledge gained via digital channels, enabling us to continuously hone our skills to drive our clients organisations forward."
Here's to the next ten years of growth, one that will inevitably be capped by mainstream Artificial Intelligence and new platforms that are currently being cooked up behind a school bike shed, somewhere, as we speak!
If you're interested in potentially becoming part of our story, get in touch! Contact us today.